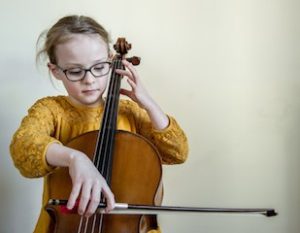 An accessory praised by students, parents, cello teachers and music shop holders.
Parents and students:
"Since my son uses the Celizy® Pedagogical Solution, he improved tremendously. I would like to offer one to my sister who is a cello teacher." (Troyes, 10)
"Your accessory is very efficient for the right wrist and elbow relaxation. Furthermore, a correct bow hold at once helps to produce a broad sound from the very first steps. Thanks a lot!" (Troyes, 10)
"The Celizy® Pedagogical Solution really helped me to set up a better bow hold". (Liège, Belgique)
Professional musicians:
"If I had had this device when I began the cello 63 years ago, my right arm would not have been as stiff as a board and, 4 years later, I would not have had to go back to the very first steps." (Paris, 75)
"This pedagogical accessory is well thought out and well designed. It will help a lot to set up a correct bow hold which is THE big challenge when learning how to play a string instrument." (Paris, 75)
Cello teachers:
"Here are my first impressions about the Celizy® Pedagogical Solution: for very young kids (5 years old), this accessory is of great efficiency; a few years later, it is a fantastic help. This device enables a good sound very quickly." (Valenciennes, 59)
"Let me tell you that your accessory is fantastic! 3 tries with 3 students.  (Belfort, 90)
"Thanks to the Celizy® Pedagogical Solution, my students have understood very quickly how to loose up their bow grip and realised how to avoid the right arm stiffness." (Paris, 75)
" After only a few weeks , the bow direction was amended" (Mulhouse, 68)
"The Celizy® Pedagogical Solution is efficient at once. Beginners appreciate it: no pain and an immediate good sound quality. 2 strong motivations to keep on playing!" (Bordeaux, 33)
"Very, very good for kids! Thanks dear Odile. (Nice, 06)
"After having tried the Celizy® Pedagogical Solution, I found it terrific!" (Neufchâteau, 88)
"A new student had a very soar right shoulder after having played only a few minutes. With the Celizy® Pedagogical Solution, her arm loosened up from shoulder to wrist and the sound quality became purer." (Angers, 49)
"Thanks to the Celizy® Pedagogical Solution, I was able to fix up some of my students' bad habits." (Laval, 72)
"Bravo for theCelizy® Pedagogical Solution! Your invention is very clever!" (Nevers, 58)
" Thanks to the Celizy® Pedagogical Solution, the right hand does not collapse towards the screw!" (Strasburg)
"Thanks to the Celizy® Pedagogical Solution, the right thumb cannot slip under the stick!" (Strasburg)
" I have tried it and it is efficient" (Toulouse, 31)
Orchestre à l'Ecole
In 2017, in agreement with the national Direction of the orchestra at the Ecole, we asked Madame Véronique Ast-Ferrand, professor of Cello at the Laval CRD and responsible for the OAE at the École Charles Perrault to test it for two months.
Circumstances:
– Children begin learning Cello in the second semester of third grade after participating in a "discovery course" of the 4 string instruments during the first semester. 
They have a small 1 ⁄ 2 hour per week of group lessons at 4.
– Then, in the fourth/fifth grade, they receive a 3 ⁄ 4-hour (partial) Cello course at 7 (grades 4-5 and CM2). They also have a 3 ⁄ 4 hour orchestral tutti (fourth and fifth graded) per week. The Celizy ® pedagogical Solution was tested on grades 3-4/CM2 for 3 sessions in June 2017. »
Findings:
– The Celizy ® Solution is very easy to use, it clips and takes off in 2-3 seconds. However, if you want to leave it in place, no problem for storing the bow in the cover because it is sufficiently fine.
– It is very light. Children are not at all embarrassed by overweight on the bow.
– Students are helped and guided by the Celizy ® Solution to hold their bow: they know better where to place each finger without asking questions, and even those who misbehaved their bow without wanting to make the effort of a better outfit, were interested To the proper holding of the bow.
– The thumb can not slide under the wand which avoids too much tightening and which mainly allows to have a wrist well high and worn. The sound is thus more resonant, less forced.
– The small finger finds its place well and the grid helps to feel the contact of the pulp.
Conclusion:
I was seduced by the Celizy pedagogical Solution.
The Celizy ® Solution was appreciated by all the students who tried it
– She instantly improved their bow outfit
-it helps to facilitate the work of the teacher in collective
In addition, I tested it on an ad hoc basis with my "traditional" students at the Laval CRD and I also found it very effective in correcting defects of outfit with a use of only a few minutes during the course. 
It remains to see the longer-term effects, and about beginners. That's why I'm going to continue using it.