The Celizy ® Teaching device, a major innovation for beginning cellists and cello teachers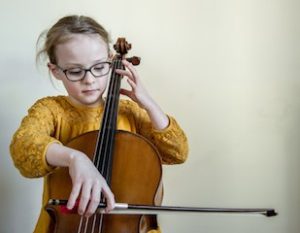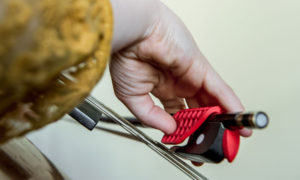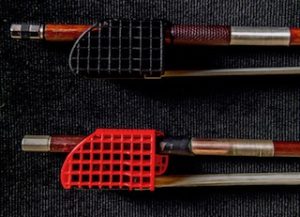 The Celizy® Teaching device is is a new accessory devoted to beginning cellists. Its specific purpose is to ease up the bow hold which is THE principal difficulty for beginning students.
It prevents the right hand to clutch the bow nut and therefore lessens the strain of the right thumb, arm and shoulder.
It allows to set up a long-term position that contributes to a plain and rewarding sound production along with a flexible and curved wrist.
Very light and very handy, it slips in an instant onto the bow or clips at the level of the nut. It is not necessary to remove it before storing the bow in the case.
The matching of two know how
The Celizy® teaching device is the result of methodical observation of beginners of all age and Odile Bourin's 30 years pedagogical/teaching experience that matched with the know how of a plant specialized in high tech plasturgy.
Its net structure brings about an exceptional lightness (circa 6 grams) and fits the essential requirement of not weighing down the bow.
Its ergonomic shape –comfortable thumb chip, support for the 2ndfinger) and its small size lead to an accurate and effective bow hold.
The Celizy® teaching device is patent protected and is made in France.
It is available in 3 sizes:
Size "S" (red) for kids under 8 years old, bow 1/4 or 1/2
Size "M" (black) for all other beginners (children or adults), bow 1/2 or 3/4
Size "L" (brown) for bow 3/4 or 4/4
How much does it cost?
The price of the Celizy® teaching device is 49 Euros : a small amount of money if are to be considered
The good sound quality that it provides at once
The time that is spared either for students or for teachers
The flaws it prevents that would be particularly difficult to correct afterwards